Aqua Novo
---
Brand

: Aquafresh
Product Name

: Aqua Novo
Price

:

Rs. 14500

Rs. 7250/-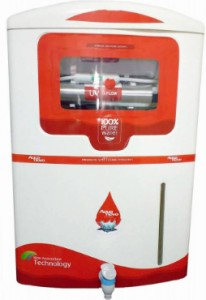 1. Triple purification technology with RO + UV  and TDS Modulator machine.
2. Aqua Novo make water 100% Pure, Safe, and Healthier.
3. No harmful chemicals & Microbes into purified water.
4. Great tasting tea, coffee, shake, juice and soft drinks etc.
5. Sparkling White crystal clear ice-cubes.
6. Healthy water for your baby milk and food.
7. Save money by eliminating the need of expensive bottled water.
8. Long lasting and easy to operate Aqua Novo water purifier.
9. Refreshing beverages, soups and sauces.
1. New Antioxidant Technology.
2. Wall mount cum Counter top Aqua Novo.
3. It contains RO + UV technology with TDS minimiser method.
4. Antibacterial 3-in-1 Silver Doser, Taste Conditioner as well as Activated Carbon to increase the shelf life and taste of water.
5. Digitally Controlled fully Automatic working.
6. UV Failure Indicator that shows the probability of impure water from the RO machine.
7. Built-in storage tank with capacity of 12 liters along with purified water level indicator.
8. Flushing system to eliminate impurities and increase membrane life.
9. In-built Switch Mode Power Supply (SMPS) for erratic voltage supply.
10. Completely automatic water level cut-off with Auto start/off.
11. Aqua Grand Plus Purification Capacity: Up to 15 liters/hour†
12. Filter all source of water e.g. under ground water, bore-well, overhead storage tank and municipal tap water etc.
13. Push – fit Connectors for leak proof performance and long lasting life.
| | | |
| --- | --- | --- |
| S.No. | Parameter | Specification |
| 1 | Filteration capacity | 12-15* Litres / hour * |
| 2 | Max Duty Cycle | 120 liters / Day |
| 3 | Storage Tank Capacity | 12 ltrs. |
| 4 | 10 Stages Purification | 1) Pre-Candle, 2) Sediment, 3) Activated Carbon, 4) RO, 5) UF, 6) UV, 7) Antiscalant, 8) TDS Minimiser, 9) Iron Remover, 10) Mineral Cartidge. |
| 5 | RO Membrane | 1812-75 GPD |
| 6 | UV Lamp Power | 11 Watt |
| 7 | Minimum Inlet Water Pressure | 0.3 kg/sq cm |
| 8 | Maximum Inlet water Pressure | 2 kg/sq cm (Ask to install PRV before the Unit, if inlet water pressure is more than 2kg/sq cm) |
| 9 | Input Voltage | 160-300 volts AC ( 50Hz) |
| 10 | Operating Voltage | 24 volts DC |
| 11 | Input water Temperature | Minimum 5 Celsius and Maximum 50 Celsius |
| 12 | Dimensions (mm) | Length 415, Width 265, Hieght 524 |
| 13 | Net Weight | 9.5 kilograms |
| 14 | Power rating | 40W |