Aquafresh Dolphin RO
---
Brand

: Aquafresh
Product Name

: Dolphin
Price

:

Rs. 11500

Rs. 5500/-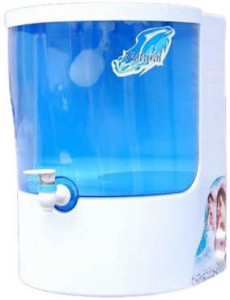 1. Aquafresh Dolphin RO Water Purifier Best for Home & Office Use
2. Two Stage Purification from RO to UV with TDS Removal method.
3. Make water 100% Safe, Pure and taste like mineral water.
4. Great tasting tea, coffee and soft drinks.
5. Sparkling and transparent ice-cubes.
6. Healthy water for all, even for baby milk and food.
7. Fully Automatic and Easy to operate.
8. Enhances taste of all types of water even of borewell or supplied water.
1. Wall-mount cum Counter-top Aquafresh Dolphin RO water filter.
2. RO + UV  Technology with TDS Minimiser method.
3. It contains Anti-bacteria 3-in-1 Silver Doser, Taste Conditioner and Activated Carbon to make shelf last longer and increase the taste of water.
4. Fully Automatic working.
5. UV measuring device that blinks when UV lamp is not in function.
6. Built-in storage tank capacity: 8 liters with purified water level indicator.
7. To flush out impurities and make membrane life last longer, it has Flushing systes.
8. In-built Switch Mode Power Supply to operate from 120~280 volts AC for erratic voltage supply.
9. Fully automatic and sock proof water level cut-off with Auto-start and off.
10. Purification Capacity: Up to 15 liters per hour†
| | | |
| --- | --- | --- |
| S.No. | Parameter | Specification |
| 1 | Water Filtering Capacity: | 12-15* Litres / hour * |
| 2 | Max Duty Cycle: | 120 Liters / Day |
| 3 | Storage Tank: | 8 Liters |
| 4 | Purification Stages: | 1) Pre-Candle, 2) Sediment, 3) Activated Carbon, 4) RO, 5) UF,  and 6) Iron Remover. |
| 5 | RO Membrane: | 1812-75 GPD |
| 6 | UV Lamp Power: | 11 watt |
| 7 | Min. Inlet Water Pressure: | 0.3 kilograms/squre centimeter |
| 8 | Max. Inlet water Pressure: | 2 kg/sq cm ( if input water pressure is more than 2kg/sq cm , install PRV before the Unit) |
| 9 | Input Voltage: | 160-300 volts AC ( 50Hz) |
| 10 | Operating Voltage: | 24 volts DC |
| 11 | Input water Temp.: | Minimum 5 Celsius and Maximum 50 Celsius |
| 12 | Dimensions (mm): | Length 415 Width 265 Hieght 524 |
| 13 | Net Weight: | 9.5 kilograms. |
| 14 | Power Rating: | 40 watt |